As terrible as the Newfoundland weather can be throughout the winter months, it provides excellent opportunities for snow and ice related activities that are not possible in the summer. If you plan on visiting Newfoundland this winter, here are some activities you can fit into your schedule:
1. Snowshoeing/Cross Country Skiing
The province of Newfoundland has countless walking trails spread throughout its parks and communities. During the winter, many people take advantage of these walking trails for both Snowshoeing and Cross Country Skiing.
The Port aux Basques area has at least five popular trails within a half hour drive from St. Christopher's Hotel. Some of these trails keep busy due to their beautiful scenic views, such as the Grand Bay West Trail in Port aux Basques; while others provide comfort and privacy to their users, like the J.T. Cheeseman Provincial Park which closes near the beginning of September, leaving the roads unmaintained and perfect for winter activities.
2. Snowmobiling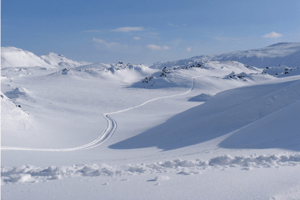 Snowmobiling is one of the most popular activities during the winter season for both locals and tourists. With so much undeveloped land and mountainous trails across the province, snowmobilers can spend days exploring the back country areas of our province.
The most popular of the snowmobile trails in the area would be the T'Railway. This trail goes from Port aux Basques across the entire province to St. John's, following the track of the old railway system. although it gets more usage from ATVers in the summer months, many people continue to use the T'Railway for recreational riding or for access to cabins and hunting or fishing areas.
A map of the T'Railway can be found on our "Getting Here" page under the "By ATV" selection.
3. Ice fishing
As mentioned above, people often use the T'Railway to access local fishing areas. Some of these areas are much easier to get to during the winter when bog and pond areas have been frozen solid, making it possible to travel across them by snowmobile. This opens up the possibility for ice fishing.
Although a snowmobile can help reach ponds that are farther inland, it is not necessary to have one to ice fish in Newfoundland. Roughly 15 minutes outside of Port aux Basques, located at the base of Table Mountain, is an area called Big Pond. Accessible directly from the highway, Big Pond allows any interested person to try their luck at ice fishing without having to travel too far from the beaten path.
It is recommended that if you plan on attempting ice fishing while visiting the area that you have somebody with you that is familiar with the sport. The thickness of the ice can vary depending on the temperature of the air and water so it is not always safe to travel across. Always check with locals or ask someone to accompany you if you plan on traveling across an unfamiliar iced area.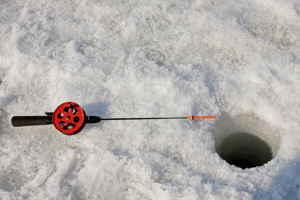 4. Marble Mountain
Marble Mountain is by far the largest winter attraction on the West Coast of Newfoundland for locals and tourists alike. Located just over two and a half hours from Port aux Basques, the ski resort offers both cross-country and down hill skiing and attracts locals from all across the province.
Also located at Marble Mountain is Marble Zip Tours. They offer a variety of tours using both zip-lines and snowmobiles. More information on their services can be found here.
As this location is only 2 and a half hours away from Port aux basques, it makes an excellent destination for a day in the snow before returning for the night or to catch the ferry.