With Newfoundland being an Island Province, there are really only two ways to reach us: Airplane or Ferry. With the nearest airport being roughly three hours away from Port aux Basques, the majority of our visitors use Marine Atlantic's Ferry service to come and go from the island. These ferrys can encounter many similar issues to airplanes, but also have unique issues related to water travel. Here are four things to keep in mind when travelling by ferry:
1. Importance of Arrival Time
Marine Atlantic requests that all customers must arrive two hours prior to the ferrys scheduled departure. This policy is to ensue that all vehicles travelling on the ferry have been properly lined up and boarded so the ferry can leave on time. Before entering the lineup, there are two points in which you have to stop which can take up a fair duration of time, especially in the busy summer season.
The first of these two points are the ticket booths. During the summer season, the lineup from these ticket booths can stretch back to the highway. This is often due to large transport trucks which take up a lot of space as well as passengers who arrive at the same time.
2. Canadian Food Inspection Agency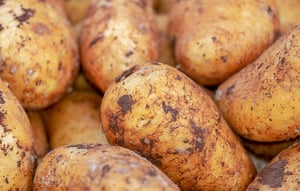 This lineup then stretches into the second stop, which is the Canadian Food Inspection Agency Plant Quarantine Station. This Federal Government Agency is responsible for inspecting every vehicle that is leaving the province to ensure they do not have any soil or root crop vegetables within their vehicle. Newfoundland soil contains cysts that can affect the growth of potatoes and other root crops. To prevent this from spreading to other provinces, the CFIA confiscates any root crops, plants, or anything containing soil that would leave the province and washes any trace of soil from the vehicles before they board the ferry.
Click Here for more information!
To avoid being caught in a long lineup, it is recommended to arrive sooner and take advantage of the services provided within the Marine Atlantic Terminal, such as their restaurant. It is also recommended to dispose of any potatoes, root crops, or any soil containing products before arriving at the ferry.
3. Wind & Cancellations
Newfoundland has always been known for its high winds, and with the Wreckhouse area being located just outside of Port aux Basques, it is almost certain that any forecasted high winds will affect the ferry crossings.
No matter what time of year you plan on travelling, always check the weather forecasts in advance and provide yourself with extra time in case your ferry crossing is delayed due to the wind or other weather related occurrences. It is always good to have a backup plan and check availability at local hotels just in case the ferry does not depart on time.
4. Ice Conditions in Winter
During the winter months it is almost guaranteed that the ferry will be canceled at least once due to the ice conditions between the two provinces. Some years, the ferrys have even been stuck in the ice for hours until the coast guard has been able to send an ice breaker to free the ship. These conditions are much harder to forecast than storms, which makes them much harder to prepare for. It is important to always give yourself extra time when traveling, especially during the winter months, because the ferry can be canceled any day for a variety of reasons.
A recent example of ice conditions causing an interruption in ferry service would be from April 5, 2019. Ice and wind in the harbour caused a buoy to be moved, which resulted in the ferry not being able to depart until the coast guard arrived to return the buoy to its proper location. This did not happen until the morning of April 6, which caused all ferry crossings to be delayed an additional 24 hours.
In conclusion:
When travelling by ferry, its important to allot extra time (whether it be hours or days) too accommodate any unexpected weather, ice, or other occurrences listed above that could delay your travel plans. Always be sure to arrive before the designated two hour arrival time and that any soil or root crop vegetables have been discarded of before departing for the ferry.