The province of Newfoundland has always been known for its harsh and quick changing weather systems. Because of this, it is always hard to know what to pack before visiting, as the weather could be hot and sunny in the morning and change to cold and windy in the afternoon. This guide will detail the items you Must pack, Should pack, and Things to Consider packing to ensure you are prepared for your visit to Newfoundland's West Coast.
Must Have
The following items are necessities if you are travelling within Newfoundland, and being without them will cause you to run into problems at some point throughout your trip.
Cash:
It is always important to carry cash on you when traveling in general, but especially in Newfoundland where the winds are often strong enough to cause power outages, which in turn causes the inability to use debit and credit card machines. Also, many places in Newfoundland, such as restaurants, kiosks, and museums, often do not have debit and credit machines. By having cash on hand, you will be able to pay for the items/services you need without having to wait any length of time for the power to return.
Alternate Clothing Combinations
As mentioned above, Newfoundland's weather is constantly changing, even to the point where we can experience all four seasons in one day. Because of this, you should always have some extra clothes in case the weather changes. During the Summer you should always have a sweater handy in case the wind picks up or the temperature drops. The province is no stranger to frosty July mornings or snowfall during the summer months.
And on the opposite side, it is important to wear layers as opposed to big bulky clothing during the winter months in case you end up with a warm day. Instead of removing a bulky coat with thin clothes underneath and remaining uncomfortable, you can just remove multiple layers until you reach your desired level of comfort.
Rain Gear
Although considered a popular fashion choice among some Newfoundlanders, rain gear is a necessity for those harsh rainy days. You don't need the full knee-high rubber boots, rain pants, and thick rubber jacket you see the fishermen wear, but be sure to bring along a water-resistant jacket with a thick hood to keep you dry during the days with heavy rainfall. Although rubber boots are not needed as badly as the rain jacket, they are something you should consider, especially if you plan on spending any length of time outside.
Photo I.D.
Photographic Identification is required to both enter and exit the province whether traveling by ferry or plane. Keep your I.D. in a safe place at all times and make sure to check after any excursions to ensure it has not been misplaced. If by some chance you do lose your I.D., our famous Newfoundland hospitality will keep you comfortable while you're stuck waiting for a new one to arrive.
Healthcare Cards
No matter your destination, you should always carry your MCP Card (or other healthcare card for your specific province). These cards make it easy to identify who you are and can provide access of your medical records to doctors if anything happens while on your trip. Having this can come in handy if you come down with a sudden illness or become injured during your trip.
Should Have
These items are not as necessary as the items in the above category, but are still items you should bring with you to make your trip more enjoyable.
Camera
When travelling throughout Western Newfoundland, you're going to wish you brought a camera, so make sure you pack one! Between the seemingly endless ocean and high mountain tops, you'll be sure to find enough scenery to fill your camera with beautiful pictures and memories. We also suggest packing a spare memory card, just in case you fill the first one.
Fly Repellent
If you plan on spending any length of time outside, be sure to pack a can of Fly Repellent. During the summer months mosquitoes and other flies are a large nuisance, and can leave you covered from your head to your toes in itchy bites if you do not protect yourself from them. Whether you plan on relaxing on the beach, trying your luck at fishing, or even just sitting around the campfire, you will most likely be eaten alive unless you coat yourself in multiple layers of fly repellent spray. To ensure the flies do not become too much of a hindrance and keep you stranded inside on the few nice days we experience during the summer, ensure you pack an extra can or two to keep the pesky flies away.
First Aid Kit
Another item you should have packed is a first aid kit. Accidents can happen at any time, and by having a first aid kit handy, you can tend to them yourself as quickly as needed. This can also come in handy if you witness an accident while travelling.
Sunscreen
Although Newfoundland isn't always known for having beautiful sunny days, they do occur on occasion. Sunscreen is something you should have on hand for those days because when the sun does come out, it comes out strong. many people suffer from serious sunburns throughout the year, especially while partaking in activities such as swimming, boating, hiking, and other activities that involve damp climates and long hours in the sun. To avoid getting a bad burn and suffering for the rest of your trip, make sure to pack a bottle of sunscreen. It is also known to help with windburn, which is a much more common occurrence in Western Newfoundland.
Rubber Boots
Another popular fashion choice among many Newfoundlanders would be rubber boots. The West Coast is full of boggy damp areas so having proper footwear to keep your feet warm and dry is definitely something you should keep handy. They may not be the most comfortable in every situation, but if your plans involve hiking along a coastline, fishing, or partaking in a boat tour, rubber boots will keep you dry and make sure you don't catch a cold throughout your vacation. These boots also help on rainy days when you have to run through puddles to get in and out of places.
Things to Consider
The following items are not as necessary as those in the two categories above, but can be useful depending on the activities you plan on partaking in during your visit to Western Newfoundland.
Map
When travelling to any new place for the first time, its always helpful to have a map to help you get around. With today's technology, maps are easily accessible through cellphones and tablets as long as you have internet access.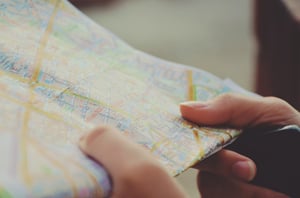 This being said, Western Newfoundland has countless points along the highway that do not have access to cell service, making electronic mapping devices nearly obsolete.
Thankfully, there are tourist information centers all across the province that provide paper maps of their immediate areas as well as the full province, and the Port aux Basques Tourist Information Center is located directly on the Trans-Canada Highway after departing the marine Atlantic Ferry, so it's a hard place to miss. We suggest stopping by these information centers when visiting the area to get a map and learn as much as you can about the area before starting your adventure.
Our Getting Here page has interactive maps for whichever way you plan on travelling during your visit to Newfoundland!
Hiking Boots
This items usefulness depends solely on how you plan to spend your time while visiting the island. The west coast is well populated with hiking trails and provides visitors with the means to exercise, explore the area, and enjoy the majestic views from along the coast and atop the mountains. If hiking these trails is of any interest to you, we recommend bringing a comfortable pair of hiking boots to avoid any painful side effects that could hinder the rest of your trip.
Check out our blog about hiking opportunities in the area!
Travel Guide
Each year a provincial travel guide is published, outlining things to do when visiting the island as well as helpful tips like this blog provides. It is always a good idea to consult the travel guide when making your travel plans so you can be fully informed on the many services and attractions there are and which you would like to partake in.
We provide a downloadable copy of the yearly travel guide to our blog subscribers. Visit our Home Page for more details regarding this.